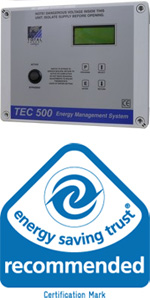 The TEC 500 is a digital, intelligent, programmable multi-boiler management system (fuel saver) designed to control up to ten boilers operating on a common flow and return header. It is compatible with most makes and types of boilers of unlimited output using natural gas, oil or LPG. 

The system combines microchip technology with proven techniques to reduce energy consumption and CO2 emissions.

Our Variable Thermal Response program measures system water temperature through electronic sensors on the flow and return pipes and accurately varies the system temperature to meet the demand imposed. Additionally the TEC 500 includes a digital programmer, optimisation (on and off), weather compensation, variable thermal response, step control of modules, automatic lead boiler sequencing, minimum and maximum flow and return system temperature control, night temperature, hot water priority, frost protection.

Safeguards against back end condensation are also catered for together with an extensive programming menu to provide maximum energy savings whilst maintaining comfort conditions.
TEC 500 Specification

Mains Supply
          240V AC 50Hz 1Ph
Consumption
         12VA
Switching Mode
         Volt Free
Switching Current
         8 Amp
Boiler Suitability
         Up to 5 Boilers (10 in pairs) of unlimited output
No. of Channels
         10 Boilers or 8 Boiler and 1 Plant
Standard Equipment
         Main Controller
         Flow Sensor
         Return Sensor
         External Sensor
User Adjustments
         Extensive Programming Menu, Active/Bypass Switch
Viewing Indications
         Current Mode, Date, Time
         Flow Temperature
         Return Temperature
         External Temperature
Indicator Type
         LCD Display
Physical Size
         190mm W x 245mm H x 100mm D